Model SSS-24VDCB-20J
24VDC Indicating Protector

Distributed protection is the most effective form of protection available. Strategic placement of multiple protection units throughtout the facility not only provides superior protection but also extends the life of the protection units. The Model SSS-24VDCB-20J provides ample line-to-line circuit protection at a cost-effective price.

Downloadable and printable product page (PDF)
Highlights:
20,000 Watts of protection
LED Protection-Status Indicators
Reverse Polarity Protection
Easily mounts on AAR terminal blocks, 1 inch centers
Small and compact in size
Strict clamping
Extremely rugged
Full 2-Year Warranty
Operating Temperature Range: -40 to +70°C
Features:
20,000 Watts of line-to-line protection will protect through even the harshest transients and surges
5mA bipolar conduction point occurs between 33.5VDC with very strict clamping beyond that point providing excellent protection from overvoltage
LED Protection-Status Indicators show GREEN when fully operational and RED when in need of replacement
Units are not damaged by reverse polarity
Failed units will NOT load the battery bus
Electrical & Temperature Specifications
Nominal Input Voltage = 24VDC
Maximal Input Voltage = 31VDC
Energy Handling Capability = 20 Joules
Maximum Peak Current Diverted = 400A
Operating Temperature Range: -40 to +70°C
Dimensions: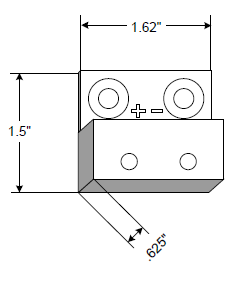 Functional Wiring Diagram: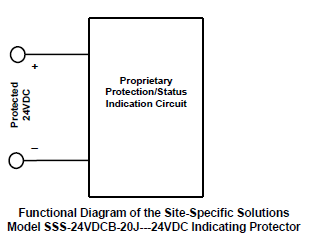 Summary:
This unit is designed to protect the nominal 24VDC Signal House Power. The maximum rated voltage is 31VDC. This device also has built-in Protection-Status Indicators that let you know if the protection is working or not. This is a primary / secondary stage protector and can be readily used in the recommended Site-Specific Solutions Distributed Protection Architecture (
contact our Engineering department for details
). These are very effective in rack protection where they are wired across the DC power bus terminal posts located in each of your equipment racks, protecting all DC powered equipment in the rack. This protector is ready to install and mounts directly onto a standard AAR Terminal Block with 1 inch center-to-center post spacing. This device can also be tailored to protect many other DC voltage applications. Because of its potted construction, it can be used in very harsh environments indoors and outdoors.
Application information:
These devices can be used to protect the main 24VDC House Battery Bus, Individual Rack Power Buses, and dedicated signaling apparatus protection. The mounting is simple and quick to standard AAR terminals (1in. centers).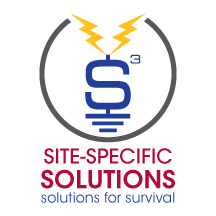 Site-Specific Solutions, Inc. © 2017
Site-Specific Solutions, Inc.
929 McLaughlin Run Road
Bridgeville, PA 15017