Model SSS-600VAC-AM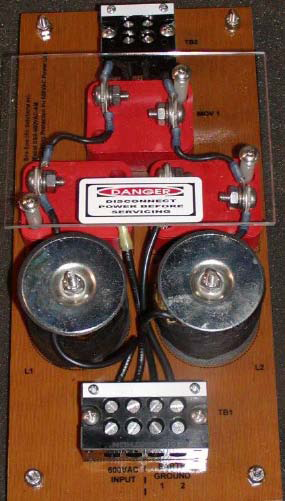 The Model SSS-600VAC-AM is designed to protect the Power Distribution Transformers whose primaries are connected to the 600VAC power distribution lines that run for miles along the railroad right-of-way. This protection device is equipped with both Line-to-Line and Line-to-Ground Lightning and Surge Protection. It is constructed using High Current / High Voltage Air-Core Inductors designed to prevent winding dielectric breakdown. High Energy MOVs are used in both the Line-to-Line and Line-to-Ground Protection Configurations.

Downloadable and printable product page (PDF)
Highlights:
High Current / High Voltage Air-Core Inductors
High Energy MOVs
Dead-Front Safety Terminal Blocks
Optional Neodymium Magnetic Feet
Stainless Steel Hardware
Linen Electrical Grade Micarta Base
Features:
High Energy MOVs capable of diverting up to 30,000 Amperes
Energy handling up to 900 Joules
Powerful Neodymium Magnetic Feet; removable if mounted to non-magnetic enclosure, replaced with #8 machine screws
Dead-Front Safety Terminal Blocks accept #18 through #6 AWG wire, stranded (preferred) or solid
Electrical Specifications
Nominal Input Voltage = 600VAC
Maximum Input Voltage = 650VAC
Maximum Continuous Throughput Current (Input-to-Output) = 10A Continuous
Maximum Clamping Voltage in all modes = 1,720 Volts Peak @ 200A Device Current
Energy Handling Capability in all modes = 900 Joules
Maximum Peak Current Diverted by the MOVs = 30,000A
Insertion Impedance @ 60Hz = 0.08Ωs
Terminal Connections:
Two input connections for balanced 600 Volt line pair (neither side grounded)
Two separate connections for Earth ground (must be taken to ground separately)
Two output connections carrying a protected balanced 600 Volt line to a Step-Down Line Transformer
Dimensions: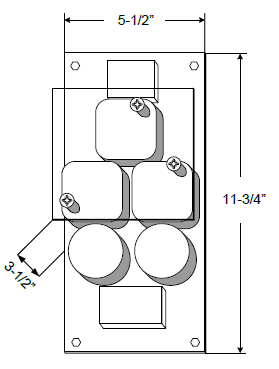 Functional Wiring Diagram: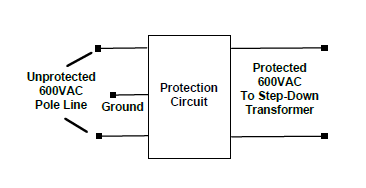 Summary:
This unit was designed to protect the step-down transformers used on a nominal 600VAC distribution line spanning many miles. The primary side of the transformers is fed from the 600VAC Line and is very vulnerable to lightning damage. The SSS-600VAC-AM will protect these transformers from any primary-side damage which will eliminate down time due to transformer destruction and replacement. This unit will protect in all modes. That is, differential protection Line-to-Line and also each Line-to-Ground. This protector is wired directly between the 600VAC distribution Line and the primary side of the transformer. Custom protection devices can be developed for power feeders other than 600VAC. If this is desired, please refer to our
Request Quote
to request a solution that meets your protection requirements.
The SSS-600VAC-AM unit was originally designed to be mounted into a large pole mounted steel enclosure having the option of moving its position within the enclosure. To accomodate this mounting flexibility, magnetic feet were used for the first time with great success. Mounting can be customized to your application.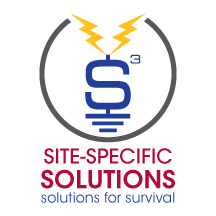 Site-Specific Solutions, Inc. © 2017
Site-Specific Solutions, Inc.
929 McLaughlin Run Road
Bridgeville, PA 15017