Diagram: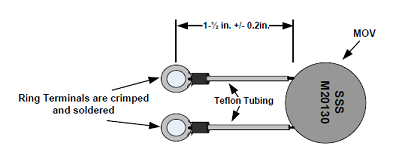 Schematic: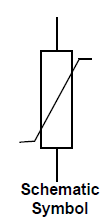 Electrical & Temperature Specifications:
Maximum continuous applied DC voltage = 170VDC
Maximum continuous applied AC voltage = 130VRMS
1mA DC Conduction Voltage Range = 184 to 226VDC
Peak Current Handling Capacity = 10,000A (8x20μS Waveform)
Energy Handling Capacity = 100 Joules
Typical Capacitance = 1,900pF
Maximum Clampin Voltage = 340 Volts Peak @ 100A device current
Operating Temperature = -40 to +70°C
Application:
Secondary protection on 120VAC rack bus terminals (to be mounted on the rack) and any 120VAC line pair leaving or entering the Signal House / Case for auxiliary functions (to be mounted on the Main Terminal Board)
Summary:
This assembly is a single high-energy MOV equipped with insulated lead wires and ring terminals for immediate mounting to standard AAR Terminal posts. This is a secondary stage protector and is readily used in the Site-Specific Solutions Distributed Protection Architecture. These devices are to be used throughout a Signal House, Office, Signal Room, or Signal Case wherever a nominal 120 VAC line pair is used. These are very effective in rack protection where they are wired across the AC power bus terminal posts located in your equipment racks, protecting all AC powered equipment within the rack. These are also excellent protection for incoming or outgoing AC power branch circuits to or from the Signal House or satellite cases and AC powered signal heads. The best installation location for these applications is the Main Terminal Board and at the AC feed terminals on equipment racks. This assembly can be built for any AC power voltage requirement you may have.

Note:
These devices are to be used for secondary level branch circuit protection only and are not to be used for protecting the AC Power Mains Breaker Panel.