Diagram: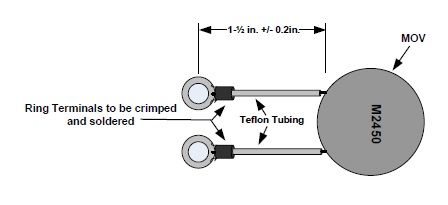 Schematic: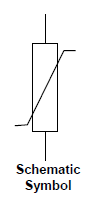 Electrical & Temperature Specifications:
Maximum continuous applied DC voltage = 18VDC
Maximum continuous applied AC voltage = 14VRMS
1mA DC Conduction Voltage Range = 19.2 to 26VDC
Peak Current Handling Capacity = 2,000A (8x20μS Waveform)
Energy Handling Capacity = 100 Joules
Typical Capacitance = 18,000pF
Maximum Clampin Voltage = 43 Volts Peak @ 20A device current
Operating Temperature = -40 to +70°C
General Description:
This assembly is comprised of a high energy 20mm MOV with lead dress making it suitable for easy installation and high reliability service.

The leads are covered with Teflon Tubing to protect both the leads from accidental damage and to prevent inadvertent shorting of the circuit to which it is applied.

The leads are terminated with ring terminals that are both crimped and soldered to the leads for high reliability operation. The ring terminals will accomodate standard AAR style terminal posts and posts up to 1/4" in diameter.
Summary:
This is an MOV assembly that has fully insulated lead wires terminated with ring terminals for easy mounting to AAR posts from 1 inch centers to more than 3 inch centers for installation flexibility. The MOV is a high energy device and is suitable for the protection of low voltage line circuits carrying nominal 12VDC power or low voltage AC lines with a maximum voltage of 17VDC or 12VRMS.

This is a primary / secondary stage protector and is generally mounted on the Main Terminal Board of the Signal House or Case. These devices will take the brunt of the energy imparted on the protected line pair. This way, a lower voltage and lower energy transient is now delivered to the down-stream secondary / tertiary protection, allowing those devices to operate most effectively. This is part of the Site-Specific Solutions philosophy on Staged Protection. When implemented correctly, the protection devices and the equipment will survive. This device is an excellent choice for the protection of correspondence lines, low voltage lines (AC or DC) going between Signal Houses or Cases, and the Signal House side of Track Coupling Units.

Note:
These are not to be used as direct track arresters or as Line-to-Ground protection.